About BAU TÜRKMER
About BAU TÜRKMER
BAU TÜRKMER
TURKISH AS A SECOND/FOREIGN LANGUAGE PROGRAM
The mission of the Turkish as a Second/Foreign Language Program is to develop and apply programs to teach General and Academic Turkish as well as Turkish for Specific Purposes to individuals of all ages.  In line with this mission, the program aims to give Turkish as a Second Language instruction to students of all ages and abilities in Turkey, as well as Turkish as a Foreign Language instruction in the countries within the BAU Global network.
Teaching and Learning at BAU TÜRKMER
We design our course content by considering our learners' individual needs and aim to equip them  with the necessary language knowledge and skills required for successful communication in Turkish. We also use 21st Century technology and on-line learning tools to enhance our students' Turkish language learning experiences.  Besides specifically designed coursebooks, we also make use of authentic materials to expose our students to real life Turkish. All of our instructors are native speakers of Turkish who are experienced and qualified in teaching it as a second/foreign language.
We teach Turkish at four levels all of which are identified in line with the Common European Framework of Reference for Languages (CEFR). And these are as follows:
A1: Elementary Level
A2: Pre-intermediate
B1: Intermediate
B2: Upper Intermediate
Our learners who successfully complete their courses are awarded a "Course Completion Certificate" by Bahçeşehir University. Minimum B1 level achievement certificate will enable you to study at Turkish Universities where the medium of instruction is Turkish.
Turkish Courses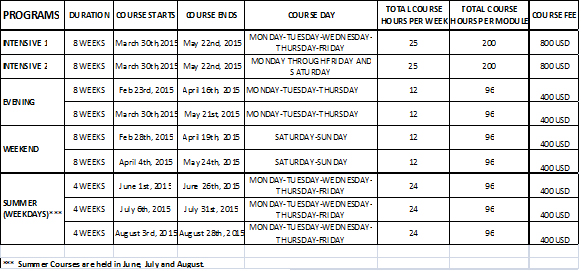 Placement:
Students who wish to attend the course are required take a standard placement exam in order to determine their levels.  The test is designed to assess the applicants' use of grammar and vocabulary as well as the  basic skills. The applicants are placed at levels in accordance with their achievements in the exam.
Certificate:
Students who successfully fulfil the assessment requirements of the courses are submitted a certificate.  Minimum B1 level achievement certificate will enable you to study at Turkish Universities where the medium of instruction is Turkish.
* International student office will be assisting you during registration and resident permit application procedure